DESIGN AWARD GALA
Friday, May 1st at 4:00 PM
The strength of the body of work in this year's award submissions was so strong we felt driven to bring the program to fruition regardless of the current condition. We invite you to participate in this year's Gala as we take the show online for our Digital Watch Party.
This is the preferred share platform for clients and general public
We look forward to seeing you soon and please distribute this with your clients and larger social groups as we are able to extend the invite our beyond our chapter to the greater East Tennessee community.
Each year we honor our region's highest award winning architectural projects at our Design Award Gala. This year the event has moved online but the awards have still been kept disclosed and will be presented in a similar format to our typical events. The submissions have been judged blindly by a jury from Charleston, SC and we are thrilled for the opportunity to share our chapter's work with you. The architects being honored through our Design Awards have worked extremely hard and deserve recognition regardless of the circumstances.
We are encouraging our community members to attend from the comforts of your home. Dress in your best is gala meets cozy attire.
Design Award categories include:
Emerging Professional
Architectural Interiors
Residential
Restoration/Renovation
New Construction
---
#AIACOZYGALA
There will be a series of competitions for our chapter members during the event. Award winners will be announced the following week. Post on Instagram and Facebook with the #AIACOZYGALA tag.
Best + Worst Dressed
Gala meets sofa attire recommended
Best Cocktail
Post a pic & recipe we can all enjoy while drinking from home
Best Firm Engagement
Purely based on engagement during the event – posts on social media with the hashtag + show us how you are celebrating remotely as an office
---
Cocktail Recipe
The AIAETN Board Recommends the A&A Atrium Spritzer
[Illustration by Matt Jordan]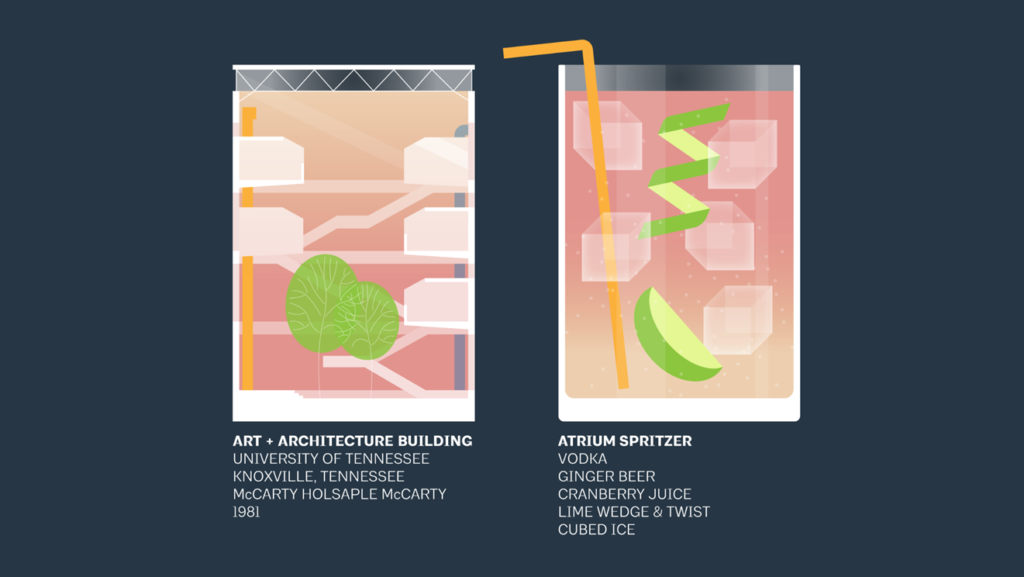 Ingredients:
Vodka
Ginger Beer
Cranberry Juice
Lime Wedge & Twist
Cubed Ice
Proportions:
Proportions are overrated. Do what you feel.
---
Gala Sponsors